Everisland: Subterrainia @ Sefton Park Palm House – REVIEW, 11.10.14

|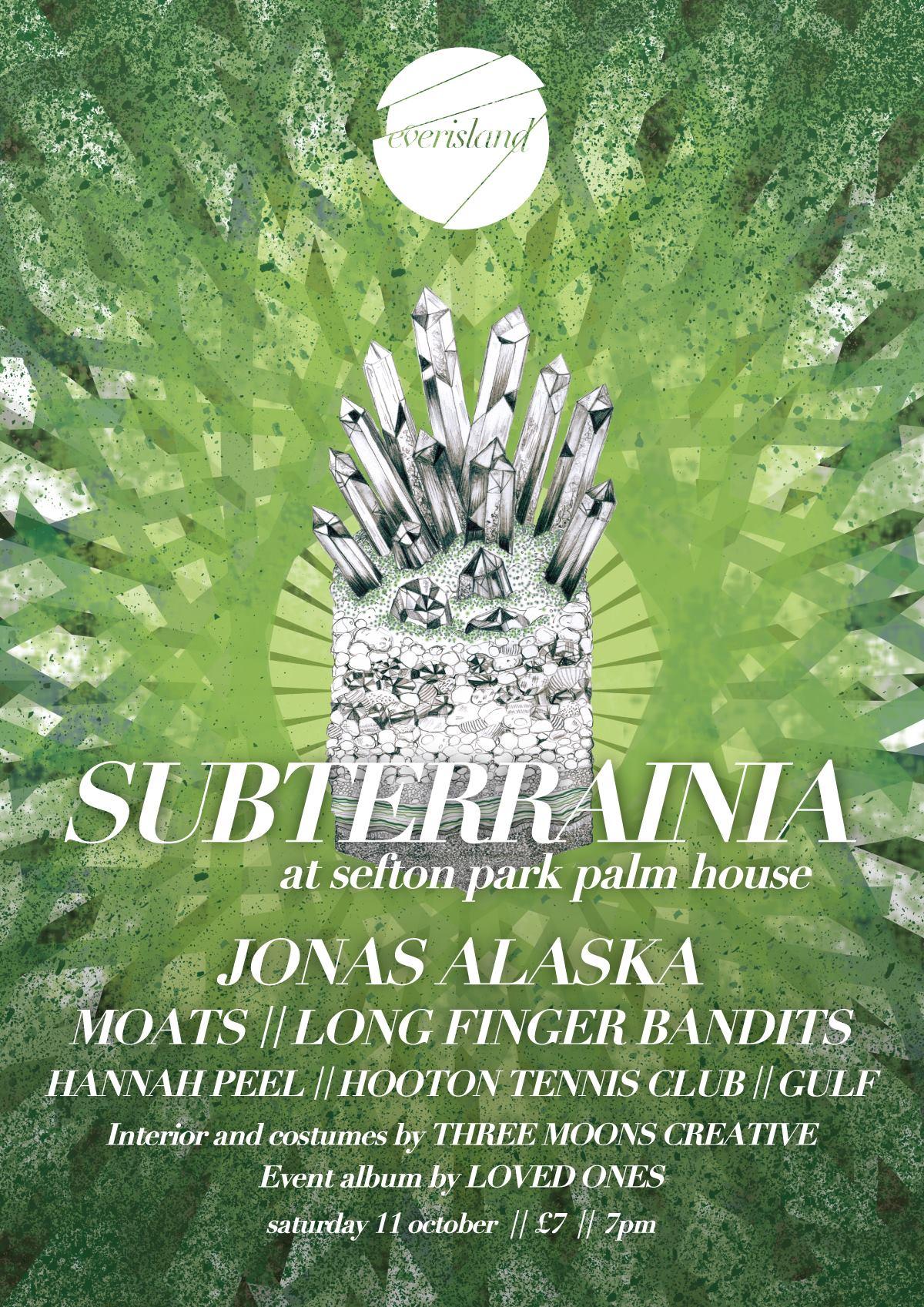 "Eccentric costumes and funky 'carnival' jazz vibes to match made for very easy listening to end the night"
Greeted by the exotic smells of the tropical greenhouse immediately puts the night into perspective; musical variety just as diverse as the vegetative scenery. With beautiful decoration thoroughly executed adhering to a mystical jungle theme, the Palm House left one in awe as they stared into the enigmatic "space". It was easy to feel a part of the environment, to be absorbed by the interactive performers, the appropriately dressed bush men and women fully involving the crowd, who (seductively) drew us into 'their' world. Not once did the masked performers break out of character, convincingly displaying they're from another 'walk of life', emphasised literally by the way they paraded around their playground.
Jonas Alaska, the ex-LIPA folk singer-songwriter from Norway, came to showcase his debut album, and where better to play than the Palm House? Offering quite the unique performance, Jonas' approach of a 'dissolved ego'("going to play a guitar solo which will be awkward") was refreshing to say the least. His introduction and overall communication with the audience was very limited, almost feeling strained, portraying a withdrawn/melancholy character. His somber demeanor was consistently played and reiterated through his depressingly-themed songs. However, it translated as something rather beautiful, and he remained captivating throughout.
Moats, the much loved local boys, played their most heart-rendering show to date. Donning his famous bucket hat, lead singer Matthew Duncan led his audience through an emotionally charged, energetic set. Playing a strew of live favourites such as "Snakepit", it became apparent just how much the four piece have progressed even over the last year, transforming the song into a polished, shining gem.
Long Finger Bandits however put on the most elaborate and engaging performance of the night. With over the top costumes to match their sound and making full use of the impressive acoustics provided by the greenhouse, their set included brass and woodwind, while a tambourine man moved through the crowd. Eccentric costumes and funky 'carnival' jazz vibes to match made for very easy listening to end the night.
What tonight offered was an evening of sublime escapism amongst the wild men and women of the subterranean world, as the music, the atmosphere and the decor totally blew me away. Big respect for the Subterrainia crew, Everisland and the Sefton Park Palm House for a big, big night, and be sure to keep an eye out for the final installment of the series to come later in the year.

Words: Julian Jefferies
More